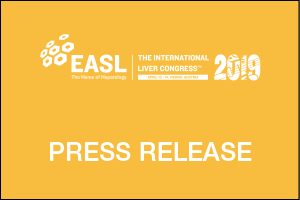 ILC 2019: Orally-administered small molecule, ccc_R08, eliminates covalently closed circular DNA (cccDNA) in the liver of an HBV cccDNA mouse model: a step towards a sterilizing cure?
12 April 2019, Vienna, Austria
EASL (EUROPEAN ASSOCIATION FOR THE STUDY OF THE LIVER)
A novel, orally-administered small molecule, ccc_R08, reduces serum markers of hepatitis B virus (HBV) infection and eliminates covalently closed circular DNA (cccDNA) from the liver, according to the results of a study presented today. Roche Researchers based in Shanghai, China, presented their findings at The International Liver Congress™ 2019 in Vienna, Austria, suggesting further exploration of this type of molecule was warranted to evaluate its potential as a cure for chronic HBV infection.
HBV infection is a major public health concern, with more than 1 million people dying each year as a result of this infection.1 Modern antiviral treatments have significantly reduced the morbidity and mortality associated with chronic HBV infection, however, the rate of functional cure defined as HBsAg loss remains less than 10% and it is unclear if a sterilizing cure can be achieved.2
HBV is a partially double-stranded DNA virus.3 After entry of the virus into human hepatocytes, a cccDNA is formed and maintained in the nuclei of infected cells, where it persists in a stable form and serves as a template for the transcription of all viral genes.3 The persistence of cccDNA in the nuclei of infected hepatocytes is a major barrier to achieving sterilizing cure with existing therapies in chronic HBV infection, and new agents are needed to achieve cccDNA elimination from the liver.4
The discovery of an orally-available small molecule with the potential to eliminate cccDNA in the livers of HBV-infected individuals is welcome news. As Dr Lu Gao from the Roche Innovation Centre in Shanghai, China explained, the novel cccDNA destabilizer, ccc_R08, was first evaluated in human hepatocytes that had been infected with HBV. When first administered at two days after infection, ccc_R08 was able to significantly reduce levels of cccDNA without any significant effects on the mitochondrial DNA or significant signs of cellular toxicity.
In a follow-on experiment, ccc_R08 was administered orally twice daily for 2 weeks to mice who had been transduced with circular DNA to replicate HBV using a cccDNA-dependent mechanism similar to that observed in humans.5 According to Dr Gao, serum levels of HBV DNA, pregenome RNA (pgRNA), hepatitis B surface antigen (HBsAg), and hepatitis B e antigen (HBeAg) were all significantly reduced during ccc_R08 treatment, with these reduced levels sustained in the post-treatment follow-up. By the end of follow-up, levels of HBV cccDNA-like molecule in the liver were below the lower limit of quantification in the treated animals. In contrast, in a control group of animals that received entecavir, no impact on cccDNA was observed.
'We were encouraged to see that this agent had the potential to reduce pre-existing cccDNA from the liver in this animal model of HBV replication, even to undetectable levels,' Dr Gao told the meeting. 'We think this type of molecule is well worth exploring further to evaluate its potential to cure chronic HBV infection in humans.'
###
About The International Liver Congress™
This annual congress is the biggest event in the EASL calendar, attracting scientific and medical experts from around the world to learn about the latest in liver research. Attending specialists present, share, debate and conclude on the latest science and research in hepatology, working to enhance the treatment and management of liver disease in clinical practice. This year, the congress is expected to attract approximately 10,000 delegates from all corners of the globe. The International Liver Congress™ 2019 will take place from 10­–14 April 2019 at the Reed Messe Wien Congress and Exhibition Center, Vienna, Austria.
About The European Association for the Study of the Liver (EASL)
Since its foundation in 1966, this not-for-profit organization has grown to over 4,000 members from all over the world, including many of the leading hepatologists in Europe and beyond. EASL is the leading liver association in Europe, having evolved into a major European association with international influence, and with an impressive track record in promoting research in liver disease, supporting wider education and promoting changes in European liver policy.
Contact
For more information, please contact the ILC Press Office at:
Onsite location reference
Session title: 'Hepatitis B – drug development'
Time, date and location of session: 16:15–16:30, 12 April 2019, Hall C2
Presenter: Lu Gao, China
Abstract: A first-in-class orally available HBV cccDNA destabilizer ccc_R08 achieved sustainable HBsAg and HBV DNA suppression in the HBV circle mouse model through elimination of cccDNA-like molecules in the mouse liver (PS-074)
Author disclosures
Lu Gao is an employee of Roche R&D Center (China) Ltd.
References
Seto WK, et al. Chronic hepatitis B virus infection. 2018;392(10161):2313–24.
Kwon H, Lok AS. Hepatitis B therapy. Nat Rev Gastroenterol Hepatol. 2011;8(5):275–84.
Levrero M, et al. Control of cccDNA function in hepatitis B virus infection. J Hepatol. 2009;51(3):581–92.
Yang HC, Kao JH. Persistence of hepatitis B virus covalently closed circular DNA in hepatocytes: molecular mechanisms and clinical significance. Emerg Microbes Infect. 2014;3(9):e64.
Yan Z, et al. HBVcircle: A novel tool to investigate hepatitis B virus covalently closed circular DNA. J Hepatol. 2017;66(6):1149–57.