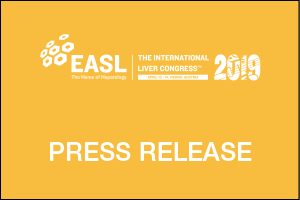 ILC 2019: 'Real-world' studies confirm the effectiveness of elbasvir/grazoprevir in people with hepatitis C (HCV) genotype 1 infection who inject and/or abuse drugs or who receive opioid substitution therapy
13 April 2019, Vienna, Austria
EASL (EUROPEAN ASSOCIATION FOR THE STUDY OF THE LIVER)
Two 'real-world' studies have today confirmed the effectiveness of elbasvir/grazoprevir (EBV/GZR) in the treatment of people with hepatitis C (HCV) genotype (GT) 1 infection who inject or abuse drugs and/or who receive opioid substitution therapy (OST). Investigators in Germany and the USA have reported high sustained virological response rates in these difficult-to-treat populations in whom there has previously been reluctance to use direct-acting antiviral drugs (DAAs).1
People who inject drugs (PWID) are at high risk of infection with HCV, with an estimated global HCV prevalence of at least 60–80% in this population.2 Some people with a history of injecting drugs receive OST for the management of opioid dependence,3 and this approach has been shown to reduce HCV acquisition by 50%.4 In clinical studies, DAAs have been effective and well tolerated in individuals receiving OST5 and those with recent injection drug use.6 EBR/GZR was approved in Europe in July 2016,7 with a controlled clinical trial in adults with chronic HCV infection receiving OST reporting a sustained virological response at 12 weeks (SVR12) of 91.5%.5 Currently, little is known about the effectiveness of EBR/GZR in PWID and/or those receiving OST in everyday practice.
In the first study reported today, German researchers analysed the German Hepatitis C Registry (DHC-R) records of 992 individuals with HCV GT1 infection who were treated with EBR/GZR ± ribavirin (RBV) for 12–16 weeks. Of 613 individuals who completed 12 or 24 weeks of follow-up or discontinued treatment early (intent-to-treat [ITT] population), 499 had no former drug use, 67 were PWID on OST, and 47 were former/current drug users not receiving OST. SVR rates were 96.2% (480/499), 89.6% (60/67), and 93.6% (44/47), respectively. In the per-protocol population, SVR rates were 98.6% (484/491), 98.4% (61/62), and 95.7% (44/46), respectively. A significant between-group difference was only observed in the ITT analysis of SVR for the individuals with no former drug use versus those receiving OST.
'In the past, there has been controversy over the use of DAAs to treat HCV infection in PWID1,' said Dr Stefan Christensen from the Centre for Interdisciplinary Medicine in Muenster, Germany. 'Our findings suggest that any reservations about initiating DAAs in this population is unwarranted, and high rates of SVR can be achieved in clinical practice.'
In a second study involving a US Department of Veterans Affairs cohort, 611 individuals with chronic HCV GT1 infection who had received EBR/GZR for >11 weeks and who had either a diagnosis of opioid use disorder or been prescribed medication for opioid dependence were identified. Most individuals (90%) were treatment naïve prior to receiving EBR/GZR and most had chronic kidney disease stage 4–5 (86%). Almost 60% of the cohort had received at least one prescription for an opioid dependence therapy (59%), 90% had a history of drug abuse, and 71% were receiving concomitant psychiatric medication. Most individuals (526/611; 86%) had received EBR/GZR without RBV for 12 weeks; the remaining 85 (14%) had received other EBR/GZR-based regimens.
According to Dr Amy Puenpatom from MSD, a subsidiary of Merck & Co. Inc. Kenilworth, NJ, USA, who presented the study findings on behalf of the investigators (Dr Kramer, Dr Kanwal and Dr El-Serag), SVR was achieved by 96% (586/611) of individuals. High rates of SVR (94–98%) were achieved across all subgroups analysed, including those with a high baseline viral load (≥800,000 IU/mL), cirrhosis, a history of alcohol or drug abuse, or opioid agonist therapy.
"We are pleased to be presenting these new data at the EASL congress, and look forward to continuing our work to help reduce the global burden of chronic hepatitis C," said Dr Puenpatom
### 
About The International Liver Congress™
This annual congress is the biggest event in the EASL calendar, attracting scientific and medical experts from around the world to learn about the latest in liver research. Attending specialists present, share, debate and conclude on the latest science and research in hepatology, working to enhance the treatment and management of liver disease in clinical practice. This year, the congress is expected to attract approximately 10,000 delegates from all corners of the globe. The International Liver Congress™ 2019 will take place from 10­–14 April 2019 at the Reed Messe Wien Congress and Exhibition Center, Vienna, Austria.
About The European Association for the Study of the Liver (EASL)
Since its foundation in 1966, this not-for-profit organization has grown to over 4,000 members from all over the world, including many of the leading hepatologists in Europe and beyond. EASL is the leading liver association in Europe, having evolved into a major European association with international influence, and with an impressive track record in promoting research in liver disease, supporting wider education and promoting changes in European liver policy.
Contact
For more information, please contact the ILC Press Office at:
Onsite location references
Session title: 'Viral hepatitis C: Therapy and resistance'
Time, date and location of session: 09:00–19:00, 11 April 2019, Poster Area
Presenter: Stefan Christensen, Germany
Abstract: High real-world effectiveness of elbasvir/grazoprevir in PWID on opioid substitution therapy with HCV genotype 1 infection: Results from the German hepatitis C registry (DHC-R) (THU-125)
Session title: 'Hepatitis C – Treatment and resistance'
Time, date and location of session: 09:00–09:15, 13 April 2019, Main Plenary
Presenter: Amy Puenpatom, USA
Abstract: Effectiveness of elbasvir/grazoprevir in patients with hepatitis C virus genotype 1 infection who receive opioid agonist therapy: Treatment utilization and the impact of concomitant psychiatric medications (PS-182)
Author disclosures
Stefan Christensen has received honoraria for consulting or speaking at educational events from Abbvie, Gilead, Indivior, Janssen-Cilag, MSD, and ViiV.
The German Hepatitis C-Registry (Deutsches Hepatitis C-Register, DHC-R) is a project of the German Liver Foundation (Deutsche Leberstiftung), managed by Leberstiftungs-GmbH Deutschland in cooperation with the Association of German gastroenterologists in private practice (bng) with financial support from the German Center for Infection Research (DZIF) and the companies AbbVie Deutschland GmbH & Co. KG, Bristol-Myers Squibb GmbH & Co. KGaA, Gilead Sciences GmbH, Janssen-Cilag GmbH, MSD Sharp & Dohme GmbH as well as Roche Pharma AG (financial support until 2017-07-14).
Amy Puenpatom is a director at the Center for Observational and Real-World Evidence, Merck Sharp & Dohme Corp., a subsidiary of Merck & Co Inc, Kenilworth, NJ, USA. Funding for this research was provided by Merck & Co Inc, Kenilworth, NJ USA.
References
Asher AK, et al. Clinicians' Views of Hepatitis C Virus Treatment Candidacy With Direct-Acting Antiviral Regimens for People Who Inject Drugs. Subst Use Misuse. 2016;51(9):1218–23.
Nelson PK, et al. Global epidemiology of hepatitis B and hepatitis C in people who inject drugs: results of systematic reviews. Lancet. 2011;378(9791):571–83.
European Association for the Study of the Liver. EASL Recommendations on Treatment of Hepatitis C 2018. J Hepatol. 2018;69(2):461–511.
Platt L, Minozzi S, Reed J, Vickerman P, Hagan H, French C, et al. Needle syringe programmes and opioid substitution therapy for preventing hepatitis C transmission in people who inject drugs. Cochrane Database Syst Rev 2017;9:CD012021.
Dore GJ, et al. Elbasvir-grazoprevir to treat hepatitis C virus infection in persons receiving opioid agonist therapy: a randomized trial. Ann Intern Med. 2016;165(9):625–34.
Grebely J, et al. Sofosbuvir and velpatasvir for hepatitis C virus infection in people with recent injection drug use (SIMPLIFY): an open-label, single-arm, phase 4, multicentre trial. Lancet Gastroenterol Hepatol. 2018;3(3):153–61.
ZEPATIER 50 mg/100 mg film-coated tablets. Summary of Product Characteristics. Merck Sharp & Dohme B.V. June 2018.