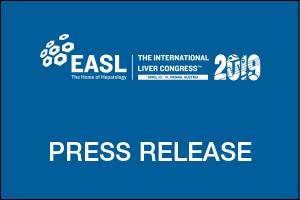 ILC 2019: Phase 2 study reports significant reductions in alkaline phosphatase and high responder rates among individuals with primary biliary cholangitis treated with elafibranor
13 April 2019, Vienna, Austria
EASL (EUROPEAN ASSOCIATION FOR THE STUDY OF THE LIVER)
A Phase 2 study investigating the peroxisome proliferator-activated receptor (PPAR)-α/δ agonist, elafibranor, has today reported significant anticholestatic effects among individuals with primary biliary cholangitis (PBC) treated for 12 weeks. The study reported at The International Liver Congress™ 2019 in Vienna, Austria, found that elafibranor was associated with significant decreases in alkaline phosphatase (ALP) and other biochemical markers of PBC compared with placebo.
Primary biliary cholangitis is a chronic autoimmune condition that causes damage to the bile ducts, leading to impairment of bile flow and the development of cirrhosis and end-stage liver disease.1,2 A large proportion of individuals with PBC are identified incidentally through imaging findings or the detection of elevated liver enzymes such as ALP and gamma-glutamyl transferase, although symptoms including fatigue, pruritus, and jaundice are sometimes present.1,2 Current treatment options for PBC are relatively limited, with European guidelines recommending life-long treatment with ursodeoxycholic acid (UDCA), with additional options including obeticholic acid, fibrates, and budesonide.2
Elafibranor is an investigational oral treatment that has anti-inflammatory properties and decreases the synthesis and toxicity of bile acids.3 The study presented today is the first to investigate elafibranor in the treatment of PBC.3
'The development of new treatments for PBC is critical because many patients either do not respond sufficiently to current therapies or cannot tolerate them,' explained Dr Velimir Luketic from the Virginia Commonwealth University School of Medicine in Richmond, USA, who presented the study results today.
The Phase 2 study involved 45 individuals with PBC without cirrhosis who had not responded adequately to UDCA treatment (defined as an ALP >1.67 x upper limit of normal [ULN]) and were randomized to receive 12 weeks of add-on oral elafibranor at a dose of 80 mg/day or 120 mg/day or to placebo. The primary endpoint of the study was the percentage change from baseline in ALP at Week 12 relative to placebo.
According to Dr Luketic, both doses of elafibranor significantly decreased mean ALP compared with placebo (p<0.001), with reductions of 48% with the 80 mg/day dose, 41% with the 120 mg/day dose, and an increase of 3% with placebo. At Week 12, 67% and 79% of participants who received elafibranor 80 mg/day and 120 mg/day, respectively, had an ALP <1.67 x ULN, a reduction in ALP >15%, and a total bilirubin within normal limits compared with 6.7% of participants who received placebo. Significant improvements in lipid and inflammatory markers and a trend in decreased pruritis were also observed.
'Twelve weeks of elafibranor treatment was well tolerated and produced marked improvements in ALP and other biochemical markers of PBC in this Phase 2 study,' said Dr Luketic. 'These results suggest the treatment has substantial anticholestatic efficacy that we hope will translate into long-term benefits for patients.'
'An optimal therapy for PBC has yet to be discovered; however the current study is of major significance, since it opens the path for a new molecule to be used in the clinical setting' said Professor Marco Marzioni from the Università Politecnica delle Marche, Ancona, Italy, and an EASL Governing Board Member. 'Although this is still a phase II study, the results are solid and very promising; a sign of a better future for our patients.'
###
About The International Liver Congress™
This annual congress is the biggest event in the EASL calendar, attracting scientific and medical experts from around the world to learn about the latest in liver research. Attending specialists present, share, debate and conclude on the latest science and research in hepatology, working to enhance the treatment and management of liver disease in clinical practice. This year, the congress is expected to attract approximately 10,000 delegates from all corners of the globe. The International Liver Congress™ 2019 will take place from 10­-14 April 2019 at the Reed Messe Wien Congress and Exhibition Center, Vienna, Austria.
About The European Association for the Study of the Liver (EASL)
Since its foundation in 1966, this not-for-profit organization has grown to over 4,000 members from all over the world, including many of the leading hepatologists in Europe and beyond. EASL is the leading liver association in Europe, having evolved into a major European association with international influence, and with an impressive track record in promoting research in liver disease, supporting wider education and promoting changes in European liver policy.
Contact
For more information, please contact the ILC Press Office at:
Onsite location reference
Session title: 'Late breaker'
Time, date and location of session: 16:15–16:30, 13 April 2019, Main plenary
Presenter: Velimir Luketic, USA
Abstract: Elafibranor, a peroxisome proliferator-activated receptor alpha and delta agonist demonstrates favourable efficacy and safety in patients with primary biliary cholangitis and inadequate response to ursodeoxycholic acid treatment (LB-02)
Author disclosures
Velimir Luketic has been a consultant for Genfit and an investigator on sponsored clinical trials by AbbVie, BMS, Exalenz, Genfit, Gilead, Intercept, Merck and Novartis.
References
Fricker ZP, Lichtenstein DR. Primary sclerosing cholangitis: a concise review of diagnosis and management. Dig Dis Sci. 2019;64(3):632–42.
European Association for the Study of the Liver. EASL Clinical Practice Guidelines: The diagnosis and management of patients with primary biliary cholangitis. J Hepatol. 2017;67(1):145–72.
Khanna A, Jones DE. Novel strategies and therapeutic options for the management of primary biliary cholangitis. Therap Adv Gastroenterol. 2017;10(10):791–803.