In this issue
As ILC 2019 draws to a close, this issue of the Daily News looks back over the scientific highlights from this year's conference with updates from the wrap-up session, and highlights the EASL Policy Statements on liver disease in the community, which were presented today.
You can also now watch all the presentations from ILC 2019 online.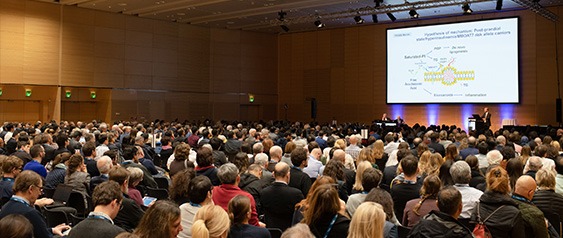 Highlights of ILC 2019

 
In the concluding session of ILC 2019, Philip Newcome closed the meeting by thanking all the speakers and delegates for an outstanding meeting showcasing a huge diversity of multidisciplinary interaction, and looked forward to opening the 2020 meeting in London. Fabio Marra, Ansgar Lohse, Marina Berenguer Haym, Jordi Bruix, and Xavier Forns wrapped up the week by sharing their basic and clinical research highlights in the areas of metabolic and alcohol-related liver disease, autoimmune and rare liver disease, cirrhosis and complications, liver tumours, and viral hepatitis, respectively.

Metabolic and alcohol-related liver disease 
New pharmacological options to tackle the increasing prevalence and public health burden posed by NAFLD/NASH were highlighted. With no drugs currently licenced, interim analysis data from the Phase 3 REGENERATE study reported encouraging results for obeticholic acid, which improved liver fibrosis and other histological markers in patients with NASH. The development of new therapeutics is crucial given the increasing prevalence of NAFLD: the ALSPAC longitudinal study in the UK identified that a fifth of 24-year olds had evidence of steatosis, while an Italian study identified that due to associated complications, healthcare costs were >86% higher in NAFLD patients with advanced liver disease.
However, prediction and prevention are still the main strategies for reducing NAFLD prevalence, so studies confirming dietary factors such as red meat and cholesterol, as well as alcohol consumption and genetics as contributors to liver disease risk will be valuable to informing public health policies. More positively, another study in patients with NAFLD demonstrated fibrosis regression in 58% of participants in an aerobic exercise intervention.
---
Autoimmune and rare liver diseases
Described as one of the most important trials at ILC 2019, the ENVISION Phase 3 study was highlighted, in which the novel RNAi therapy givosiran demonstrated a median composite 90% reduction in life-threatening neurovisceral attacks vs. placebo in acute hepatic porphyria. Also in rare diseases, two Phase 2 trials into serum bile acid transporter inhibitors for Alagille syndrome treatment, A4250 and maralixibat, showed good efficacy with reductions in pruritus.
Three promising, well-tolerated add-on therapies to support patients with suboptimal responses or intolerance to ursodeoxycholic acid (UDCA) in primary biliary cholangitis were also highlighted. Elafibranor and GKT831 added to UDCA both demonstrated anticholestatic effects and reductions in key liver enzymes. In several studies, bezafibrate added to UDCA and obeticholic acid similarly demonstrated anticholestatic, anti-inflammatory and antifibrotic effects, as well as improved survival. An intriguing study from England also demonstrated spatial, but not temporal clustering of autoimmune liver disease suggesting the presence of multiple, low-level and persistent environmental factors.
---
Cirrhosis and complications
Improving decision making and prioritization for liver transplantation in ACLF was a focus of several studies at ILC this year. Older age, respiratory failure, lactate threshold and reduced leukocyte count were all identified as post-liver transplantation risk factors in severe ACLF, while cystatin C was strongly associated with ACLF development, and may help identify high-risk patients on waiting lists. In study aiming to improve patient outcomes, early TIPS for patients with acute variceal bleeding in advanced cirrhosis was also demonstrated in a randomized controlled trial to achieve a 56% relative risk reduction in 2-year mortality or transplantation vs. standard treatment. A study evaluating therapeutic window limits of non-selective β-blockers in patients with liver cirrhosis + ascites suggested that a low MAP may be a valid indicator. A post-hoc analysis of data from the ANSWER trial data can be used to guide dosage and timing of long-term HA treatment.
---
Liver tumours
Much important new information was presented to further understand the current status of knowledge and define future areas for prospective research in liver cancer. Retrospective evidence was presented suggesting protective effects of HSD17B13 rs72613567 loss of function variant in patients with ARLD, and of cyclooxygenase (COS) inhibitors in patients with chronic hepatitis B. In a retrospective study, multiplatform analysis of data from 300 HCC tumours was used to classify classified HCC into distinct subtypes and identify potential therapeutic targets. Another study proposed chromosome stability as a potential marker to identify patients likely to respond to immune checkpoint inhibitors. In the Phase 3 REACH and REACH-2 trials ramucirumab following sorafenib resulted in a consistent and well-tolerated treatment benefit across multiple aetiology subgroups and in patients with elevated baseline AFP ≥400 ng/ml vs. placebo. Several real-world studies of immunotherapy reported results that are consistent with clinical trial results. However, Professor Bruix stressed that careful consideration must be given to understanding immune-related adverse events and their management and that the measurement of tumour response to angiogenesis inhibitors needs to be re-visited.
---
Viral hepatitis
With DAAs now well established for the cure of HCV, multiple studies presented at this year's ILC confirmed their real-world effectiveness. They included a large US/European cohort reporting an SVR rate of 98.9% for sofosbuvir/velpatasvir, a German cohort reporting a modified SVR of 99.5% for glecaprevir/ pibrentasvir, and >91% SVR for multiple regimens in relatively difficult-to-treat genotype 3 patients. However, data on the impact of NS5A resistance and low SVR rates among some patients in a migrant population from West Africa remind us that challenges remain for DAAs. Data from Scotland warned of the growing impact of both acute and chronic hepatitis E. In HBV, promising results were reported for novel strategies, with a Phase 2 study into the ABI-H0731 + nucleos(t)ide analogue (NUC) combination suggesting good tolerance and greater declines in HBV viraemia vs. NUCs alone. Preliminary data from animal models raised some hope for new treatments in HBV: Mab against HBsAg and cccDNA destabilizers.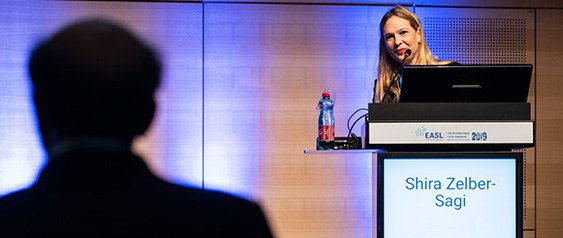 Tackling liver disease at the community level – EASL policy statements on alcohol, food and obesity, hepatitis C elimination, and migrant health 
As the efficacy and availability of therapeutics for viral hepatitis improve, several themes in the global burden of liver disease have emerged; the growing contribution of alcohol and obesity to liver disease, and elimination of HCV, especially in hard-to-reach populations. These themes were the subject of four policy statements presented today in two 'Liver disease and the community' sessions; 'Alcohol and food' and 'HCV elimination and migrant health'.

Reducing alcohol consumption – a clear benefit
Helena Cortez-Pinto presented EASL's policy on alcohol and alcohol-related liver disease, which reports that, in 2016, 27% of the over 1.2 million liver-related deaths worldwide were attributable to alcohol, and 75% of EU member states see a direct correlation between them. As such, EASL urges governments to implement national alcohol programmes to reduce alcohol affordability through increases in excise taxing and minimum pricing. It also recommends public health and education programmes to encourage behaviour change, stricter regulation of alcohol advertising, mandatory labelling of health risks, and screening/interventions for harmful alcohol consumption.
---
Obesity and non-alcoholic fatty liver disease – a growing problem
NAFLD is now estimated to affect 1 in 4 people across the EU and rising, with annual predicted direct costs of >€35 billion and a further €200 billion of societal costs, yet there are no licensed pharmacological therapies. In this context, Shira Zelber-Sagi introduced EASL's policy statement on food and obesity, calling for improved public health policies to encourage healthy eating, the benefits of a Mediterranean diet, and regular physical activity. Fiscal measures and tighter restrictions on advertising sugar sweetened beverages and industrially processed foods high in saturated fat, sugar, and salt consumption to children are also recommended, as well as multidisciplinary approaches to improving knowledge and skills of HCPs, and further funding of new diagnostic research programmes.
---
Making hepatitis C elimination by 2030 a reality
Advancement in DAA therapy means that HCV can be effectively cured in nearly all patients. Despite this, there are still 11–14 million people living with the virus in Europe. EASL's policy statement on HCV elimination, introduced by Francesco Negro, reinforces the society's belief in the WHO vision that 'Hepatitis C can, and should, be eliminated as a public health threat across the whole of Europe by 2030'. In doing so, EASL recommends:
Increased medical and public awareness of HCV amongst health professionals, patients, policy makers, the media and the public
Implementation of harm reduction strategies
Rapid testing and treatment in the relevant settings, particularly for those at high risk
Improved access to treatment and care by increasing the number of authorized prescribers
Treatment for every HCV-infected patient at the earliest opportunity
Making DAAs available at reasonable prices
---
Migrant health – ensuring support for vulnerable populations
The final EASL policy statement described how the current system is failing vulnerable migrant populations. Despite public perception that migrant populations bring disease into Europe, asylum seekers are generally healthy young men and hospitalization rates due to chronic medical conditions are significantly lower than among non-migrant patients. Asylum seekers are, however, at increased risk of hepatitis A outbreaks due to overcrowding and poor sanitation in host facilities, sexual abuse and infection with sexually transmitted diseases, social marginalization, mental health issues and substance abuse. To limit the spread of liver disease in these populations, EASL recommends:
European governments adopt a public health- and human rights-based approach to migrant health
Improvements to migrant reception facilities and removal of preventable sources of HAV, such as overcrowding, poor sanitation, and unsafe food and water
Access to screening and reasonable healthcare regardless of status, including affordable and understandable medical care, treatment and referrals
Expanding migrant screening programmes to include HBV and HCV
Education on risk factors for liver disease and continuity of care for ongoing treatments
Improved integration between EU member state authorities to develop specialist training for migrant healthcare workers



Best of ILC now available

A selection of the best, most important scientific results are now available for you to examine in detail! Download the 'Best of ILC' slide decks on the EASL website.

Highlights of the day


See you in London for ILC 2020, 15–19 April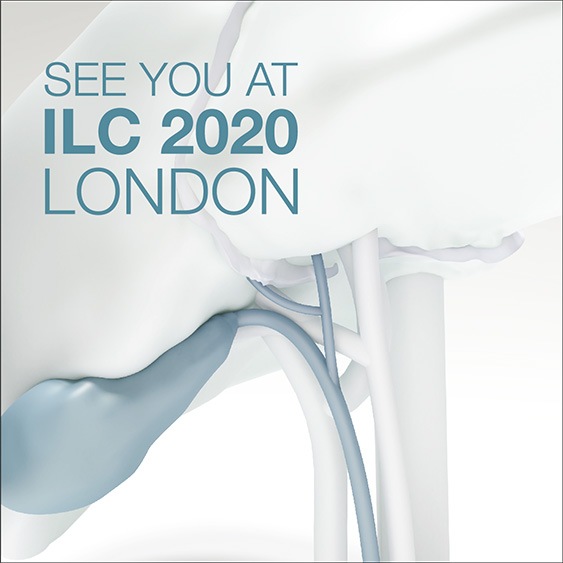 Acknowledgements
'Today at ILC' and 'Best of ILC' were supported by grants from: Bayer, Boehringer Ingelheim and Eisai