In this issue
At the midway point of ILC 2019, the Daily News brings you updates from EASL's award ceremonies, Hot topics in liver transplantation, and the latest from hepatology nurses in the Nurses and Allied Health Professionals' Forums.
The scientific highlights continued apace with presentation of the latest clinical data in today's General session and ground-breaking research from the parallel sessions on advances in clinical therapy in NAFLD, translational aspects of acute and acute-on-chronic liver failure and clinical aspects of cirrhosis.
Also in today's edition – the noise and excitement continues in our ILC Insights on the breakfast morning rounds, nurses and allied health professionals forum and and poster tours.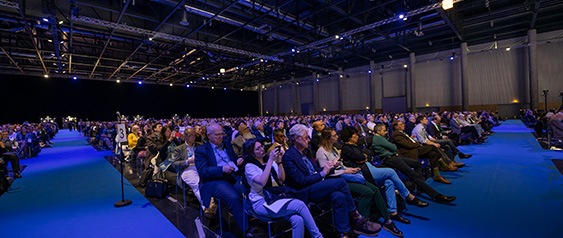 Today's general session saw worrying longitudinal data – widely reported in the world press – from the largest study to date on fibrosis and steatosis in young adults with suspected NAFLD. An updated analysis of over 4000 young adults from the Avon Longitudinal Study of Parents and Children (ALSPAC) cohort, one of the most phenotyped cohorts in the world, revealed that 1 in 5 had steatosis and 1 in 40 had fibrosis (mean age 24 years). Clearly, this highlights an urgent need for greater public health awareness and education for teenagers and young adults on the risks of NAFLD.
In other news from this session:
Well-received real-world data from the German Hepatitis C-Registry (DHC-R) suggest DAA treatment for HCV should not be deferred in marginalised populations. The study showed that Glecaprevir/Pibrentasvir was well-tolerated and highly effective in HCV patients with psychiatric disorders, HIV coinfection, alcohol or active drug use, or who were on opioid substitution therapy. Excluding non-virological failures, the SVR12 was 99.5% (964/969) for the overall population.
Exploratory analyses of pooled data from the REACH and REACH-2 trials in patients with advanced HCC and an elevated alpha fetoprotein level showed that anti-VEGF receptor 2 ramucirumab is effective regardless of disease aetiology (including hepatitis B or C infection, significant alcohol use, steatohepatitis and cryptogenic cirrhosis).
Final results from the ACHIEVE trial confirm Inarigivir 200 mg daily as a potent antiviral agent against HBV, showing a 1.5 log10 reduction in HBV DNA after 12 weeks. Further studies at doses of up to 400 mg in combination with Tenofovir disoproxil fumarate or added to nucleoside analogue-suppressed patients are underway.
Scientists in Norway and Sweden have identified the SEMA4D gene as a potential therapeutic target in primary sclerosing cholangitis (PSC). Discovered through a germline mutation in the first PSC family to be characterised, the putative role of SEMA4D in cholangitis pathogenesis was explored in a series of mouse model studies.
Results from the STOPAH trial showed that an elevated baseline neutrophil-to-lymphocyte (NLR) predicted a lack of response to corticosteroid therapy for alcoholic hepatitis, according to the Lille score. Low NLR also indicated a decreased chance of developing acute kidney injury or infection during corticosteroid therapy.

Don't miss


A review of the most outstanding publications in liver disease research in The best of JHEP: 2015–2019 – Saturday, 14:00–15:30, Lehar 2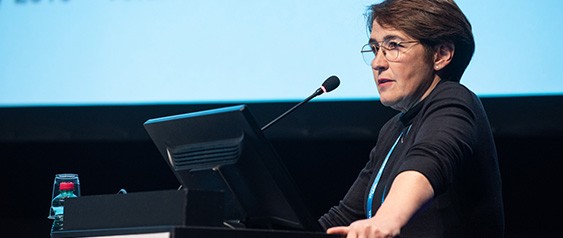 One of the annual highlights of ILC, the Hot topics in liver transplantation symposium, co-organised with EASL, ELITA, ILTS, and LICAGE, discussed some of the burning issues in liver transplant medicine. An ageing population and a drastic rise in comorbid conditions such as obesity, type 2 diabetes and cardiovascular disease among both donors and recipients will have huge repercussions for liver transplantation, with increased waiting list mortality and frailty among pre-transplant patients and an adverse impact on post-transplant outcomes. The distinguished panel reviewed innovative strategies to augment the donor pool and to improve graft survival:
Maximising incentives, minimising disincentives and educating the public to encourage more living liver donors
Changing paradigms to expand the criteria for living donor transplants
Applying in situ techniques to increase the use of split liver transplants
Optimising ex-situ organ maintenance to ensure transplant success
Establishing multidisciplinary approaches and defined quality standards in liver ICUs
The symposium ended with a debate on machine perfusion. The panel were strongly supportive of the routine use of this technique, not just for high-risk organs but for all DCD (donation after circulatory death) livers, regardless of risk. Chris Watson urged the audience to "leave the ice behind and move into a new generation".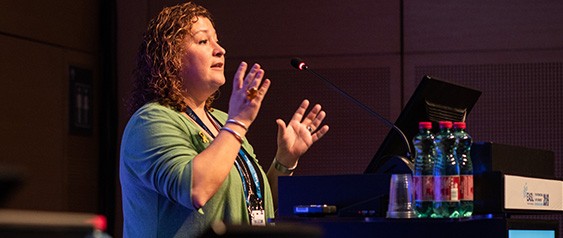 Nurses and AHPs played a prominent role on the ILC 2019 scientific programme, with two forums, a dedicated poster tour and poster area and a Meet the Nurses' ILC Task Force. Highlighting the critical role of nurses and AHPs in liver disease management, Kirstine Leth Hjort underlined how they can 'make a better life for patients with liver disease and their families'.
Throughout the day, a multidisciplinary panel of speakers, including nurses, physiotherapists, nutritionists and physicians, reinforced the pivotal role of nurses and AHPs in patient care:
Nurses and nurse specialists add capacity and value in liver disease management
They spend more time with the patient and are often the first to recognise symptoms
They play a huge role in advising and motivating patients, and promoting education on liver disease amongst colleagues
They are in a position to foster communication between patients, family members, physicians and other health professionals
A unique opportunity to improve patient care!  Dianne Backhouse from the UK presented the first data from a specialist nurse-led pilot in-hospital and follow-up service for patients with decompensated chronic liver disease. This dedicated service has proved a huge success, providing structured and timely cirrhosis surveillance and follow-up and reducing clinic waiting times from 71 to 14 days. Their day case paracentesis service has led to a 90% reduction in hospital length of stay (from 4.5 days to 6 hours), improving patients' quality of life with excellent feedback from patients and colleagues alike.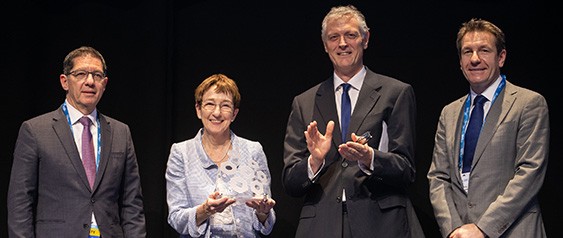 In Today's award ceremony, EASL acknowledged three outstanding researchers for their major scientific contributions in the field of liver research:
Recognition Awardee Deirdre Kelly (UK)
Recognition Awardee Vincenzo Mazzaferro (Italy)
International Recognition Awardee Flair Jose Carrilho (Brazil)
The EASL Governing Board will present further awards in tomorrow's General session III and Awards Ceremony II at 11:15 am, including the EASL Young Investigator Award, dedicated to young fellows based on their international liver research achievements to-date.


EASL has released new policy recommendations on five key areas of European public health concern: obesity in NAFLD, liver disease in migrant populations, the screening of blood donations for hepatitis E virus, elimination of hepatitis C and reducing the burden of alcohol-related liver disease.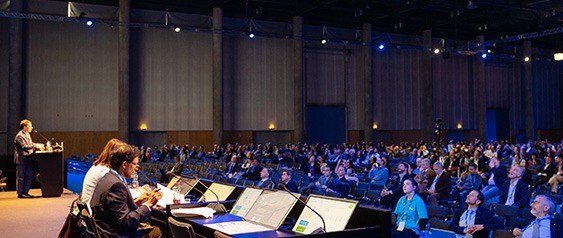 Encouraging advances in drug therapy and translational medicine



Today's parallel sessions reviewed new therapeutic agents under investigation for the treatment of NAFLD/NASH as well as the latest advances in translational medicine for the management of acute and acute-on-chronic liver failure and cirrhosis.
Novel mechanisms of action show promise in NAFLD/NASH
Encouraging results were reported from several clinical studies targeting novel mechanisms of action in the treatment of NAFLD and NASH. A reduction in liver fat ≥30% has been associated with histological improvements in NASH. In a phase 2 trial, DGAT2 antisense inhibition led to ≥30% relative reduction in liver fat content in approximately 50% of patients with type 2 diabetes (T2D) and NAFLD with no signs of hypertriglyceridaemia. Other studies reported improvements in liver fat content, liver enzymes and glycaemic control with a single once-monthly dose of humanised monoclonal antibody NGM313, ketohexokinase inhibitor PF-06835919 and second generation thiazolidinedione MSDC-0602K. Among other endpoints, endoscopic duodenal mucosal resurfacing improved absolute liver fat and ALT in T2D patients compared with sham treatment, suggesting a potential application for NAFLD. The effects of partial inhibition of acetyl-CoA carboxylase and lack of effect of SGLT2 inhibition was also discussed.
---
Translational medicine in acute and acute-on-chronic liver failure 
Acute-on-chronic liver failure (ACLF) is characterised by acute decompensation, multi-organ failure and high mortality, with no specific therapy currently indicated. Preclinical data from two rodent models showed that the novel toll-like receptor 4 antagonist TAK-242 reduced liver and renal injury, inflammation, and improved overall survival, providing a strong rationale for clinical evaluation. Plasminogen and effective albumin concentration were reported as promising prognostic markers in patients with HBV-related ACLF and ACLF with acute decompensation, respectively. In drug-induced liver injury (DILI), results demonstrated that the superoxide dismutase mimetic calmangafodipir may reduce liver toxicity after paracetamol overdose, and, in a large cohort study, it was shown that age, baseline ALT, haemoglobin, and HBsAg positivity may be useful predictors of anti-tuberculosis DILI.
---
The gut microbiome and complications in advanced liver disease 
Recent evidence has reported a major role for disruption of gut microbiota in liver disease that leads to increased liver injury, inflammation and fibrosis. In a randomized study in 20 patients with cirrhosis and recurrent hepatic encephalopathy on lactulose/rifaximin, faecal microbial transplant capsules were well tolerated and associated with lower hospitalizations, favourable changes in mucosal and stool microbiota and enhancement of the small intestinal barrier. Investigating the impact of dietary modulation in patients with cirrhosis may be of value – plasma metabolomics data showed a higher diversity in gut microbiota and systemic differences in circulating lipid metabolites with a Middle Eastern versus a high-fat Western diet in cirrhosis and healthy cohorts from Turkey and the USA.


ILC Insights




Highlights of the day

Acknowledgements
'ILC Daily News' was supported by grants from: Bayer, Boehringer Ingelheim and Eisai