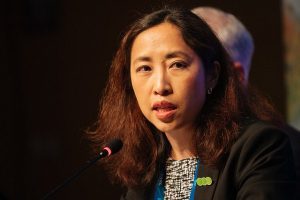 The ILC´s first press conference hosted the launch of the ICE-HBV Global Scientific Strategy to Cure Hepatitis B on Wednesday morning. The Strategy, simultaneously published in  The Lancet Gastroenterology and Hepatology, was hailed as "a game changer" by ICE-HBV Chair Peter Revill.
Dr Su Wang, Hepatitis B Foundation Board Member and President-Elect of the World Hepatitis Alliance who is also living with Hepatitis B told the audience that  "Curing hepatitis B is not a pipe dream and should not be thought of as such."
"The 257 million of us living with hepatitis B are desperate for this to be reality to stop the needless suffering and deaths," Wang said. "We applaud the ICE-HBV Strategy as a sign of the commitment to scale up the necessary research and collaboration to get us there."
Other speakers addressing the press conference were Professor Anna Suk-Fong Lok, Alice Lohrman Andrews Research Professor in Hepatology at the Department of Internal Medicine at the University of Michigan Health System in Ann Arbor, Dr Mark Bulterys,  of  the World Health Organization, Professor Markus Cornberg, from EASL and Professor Fabien Zoulim, ICE-HBV Deputy Chair.